Shoes to keep you on your feet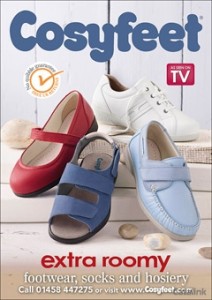 Have you ever felt discomfort in your current pair of shoes, possibly from hard, inflexible materials or an overly tight fit? Then the fantastic range of comfy, roomy and stylish shoes from Cosyfeet is just what you need!
Designed with delicate insoles, strong yet soft arch supports and premium materials, Cosyfeet brings all these features together to give you shoes that offer relief for uncomfortable feet, making Cosyfeet products ideal for anyone experiencing discomfort from walking due to swelling, injuries or medical conditions. Cosyfeet's range of shoes are also designed with style in mind, to give you shoes that both look good and feel good, with no compromise on style.
Why they are right for you
Cosyfeet's specially designed shoes are shaped to give your feet, toes and nails space, to protect them from injury and discomfort. The shoes, made from elastic material can stretch to accommodate feet of any shape, taking comfort to a whole new level. The fit on each pair of shoes is also adjustable, to give you the best possible fit and comfort, whatever size or shape of feet you have. The extra room, combined with the lightweight of the shoes will give you the ultimate comfort, with each pair feeling almost weightless. For those who are wearing bandages or any sort of treatment on their feet, these features are crucial for allowing them to be able to keep walking.
Take a look at the Cosyfeet catalogue today, and find out for yourself the fantastic range of style and comfort. Request your catalogue now!