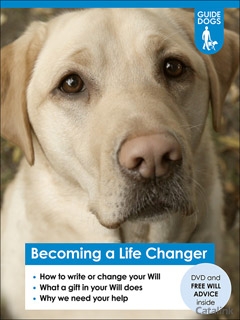 You never forget the guide dogs you've loved and the precious bond you shared with them. By writing or updating your Will for free, you can help create that bond for someone who truly needs it. Request Your Free Will Guide Now
For somebody living with sight loss, the relationship with their guide dog is not only precious but life-changing. Guide dog owner Yvonne explains: "Before Aussie, I was scared to go out on my own. But with my guide dog Aussie I don't need to be scared at all; he looks after me very well."
By creating these powerful guide dog partnerships, we can provide a future where every person with sight loss has the confidence and support to live their lives to the full. You can help us achieve this by leaving Guide Dogs a gift in your Will.
By leaving a gift in your Will, you could help turn someone else's life around with a guide dog.
Every day 250 people in the UK start to lose their sight.
Gifts in Wills play a vital role by delivering two out of three of our life-changing guide dog partnerships.
The number of people with sight loss in the UK set to double by 2050, the need for our services is growing.
Request your free Will guide for information on how you can write your Will for free. You'll also receive a fascinating insight into the early life and training of these amazing dogs and how they are shaped into life-changing companions.