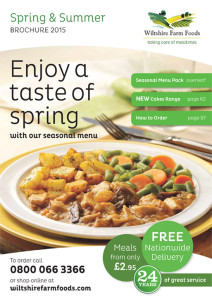 Ready meals to order makes eating healthy meals at home hassle-free
You might have trouble preparing your own meals, whether age has caught up to you or a disability now makes it difficult to move around. This doesn't mean you should go without healthy food in your life. The Wiltshire Farm Foods catalogue will make sure you enjoy delicious, hassle-free meals at home every day. Delicious recipes, healthy meals and natural ingredients ensure you get the sustenance you need without sacrificing taste or cooking ease.
Wiltshire Farm Foods is a caring business that provides meals delivered right to your door. These are all healthy meals, and come in a variety of forms with you choosing what you want to eat. There are even some great deserts to choose from as well, for those who want to indulge and those who are watching their sugar intake.
The menu in the Wiltshire Farm Foods catalogue is large enough to provide you a different meal, all day long and any day you need it, while always having something new to try. The menu of over 300 different food choices are delivered frozen and ready to heat up whenever you fancy.
Order the Wiltshire Farm Foods Menu Catalogue to discover the caring and dedicated ready meal delivery service Wiltshire Farm Foods can cook up for you. Start enjoying healthy food without the difficulties.