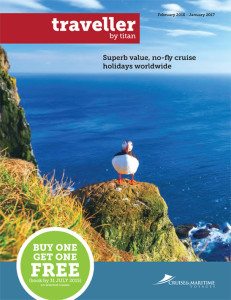 The latest Titan Travel Cruise brochure is teeming with tantalizing voyages for you to set sail on! Offering no less than ten new routes, the Februrary 2016- January 2017 period offers something for anyone who enjoys taking their holidays upon the high seas.
These adult-friendly cruises are ready to take you everywhere from Sydney to Sri Lanka in style, comfort and class. The Magellan boasts two swimming pools, a spa, a gym, stylish cabins and outstanding entertainment, including cabaret and stand-up comedy. For those of you who want to broaden your minds, as well as your horizons, there's a variety of arts and crafts to enjoy, along with stimulating lectures on a variety of subjects.
Alternatively, you can always curl up quietly with a good book or simply soak up the sights and sounds of the ocean from the observation bar. In addition, as you journey across the waves, you'll be accompanied by an attentive crew dedicated to providing you with the highest standards of service at all times, offering everything from an extensive wine list to the Captain's Gala Dinners.
Cruise voyages – a taste of what to expect on your journey
Experience The Lands Of The Northern Lights Cruise
The northern lights are one of the worlds true natural wonders, that at their best offer a dazzling light show that takes over the entire skyline. This cruise includes port visits on alternating days to allow passengers the opportunity to experience true Nordic culture and hospitality too.
The Grand Around The World Cruise
Without doubt the pinnacle of this years Titan Cruise brochure, a 121 day voyage around the world! There's still some amazing deals (up to 40% off) available for those keen to book ahead, and also a genuinely jaw-dropping list of destinations.
Order the Titan Cruise 2016 brochure now for the full list of cruising experiences.