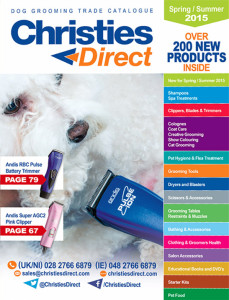 Christies Direct is the world's leading supplier of pet grooming supplies.
The Christies Direct Pet Grooming catalogue has the largest selection of high quality pet grooming tools, suitable for professional groomers and everyday pet hygiene. In addition to grooming basics, such as pet clippers, dog trimmers, and even professional grade tables, they carry helpful tools to help you get the job done safely, such as antimicrobial masks and lower back support belts. They also have a wide selection of basic pet needs, such as food, beds, collars and leads, and food bowls.
Shopping from the Christies Direct catalogue couldn't be any easier! They also have excellent customer service that is ready to help you with any questions. For example, if you're having a difficult time choosing just the right dryer for your needs, the customer service at Christies Direct can help you to choose just the right one, looking at their full range of dryers and considering the features and how they would benefit your exact use. They make a point of testing and evaluating each of the products that they carry, ensuring that each of their products performs to the highest standards and allowing them to answer any question you may have.
Christies Direct focuses not just on providing the largest selection of pet grooming supplies imaginable and superb customer service, but on delivering your order to you as fast as possible. In 2014, they were awarded the Best Grooming Supplier award at Master Groom -an award conferred and determined by a panel of professional groomers.
Christies Direct has a proven, award winning record of delivering the best products available for your pet grooming needs and backs that with the level of quality and warmth in their customer service that you would expect from a small boutique and not such a large supplier. Whatever your pet grooming needs, Christies Direct has you covered.
Order the Christies Direct Pet Grooming Catalogue now to look after your pet in the best possible way.