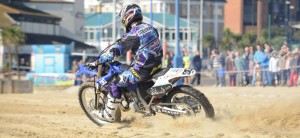 Bournemouth has whatever weekend you want
Supercars, stunts, sand and sunshine – the perfect recipe for a summer festival
Bournemouth plays host to the unmissable Wheels Festival, treating you to an adrenaline-packed weekend you won't forget.
Not your thing? No problem! The 2015 Visitor Guide gives you all the inspiration you'll ever need on how to enjoy the perfect visit. From weekend festivals, foodie treats, pampering stays and romantic coastal walks, make Bournemouth the next stop on your UK holiday tour.
Family days out and romantic breaks are just two types of holiday you could enjoy here – at any time of the3 year. So don't let weather stop you, the brochure caters for every need.
Get your holidays for the year sorted in advance – order the Bournemouth 2015 brochure here.