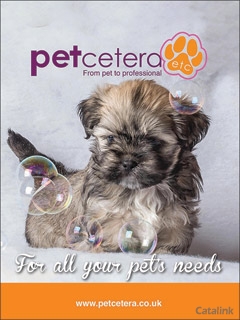 Petcetera Petcare has everything that you need for your dog, from a huge range of grooming products to those everyday essentials.
In addition, Choose from thousands of premium quality, hand-picked items, which have the Petcetera Seal of Approval.
Request Printed Catalogue Now.
In conclusion, Our team brings you only the best products and the best prices.
whether you're a pet owner, groomer, breeder or exhibitor, we have everything for you in our big sections of products.
Above all, Petcetera etc has been supplying the nation's top dog and cat people with new and innovative Petcare products for over 30 years.
The 148 page catalogue contains a wide variety of products; from training to playtime, for home and away, grooming and showing.
In addition, We dispatch the order in 48 hours & International orders are dispatched in 7 days.
Please examine your order immediately upon receipt and report any problems or dissatisfaction with your order within 48 hours.
Shipping & Handling cost is £4.95 on ALL orders under £50.00 delivered within mainland UK.
Shipping and Handling for orders between £50.01 and £100.00 is £2.95 and for orders over £100.00 is shipping and handling is free within mainland UK.
Don't take our word for it, order your catalogue now & receive 20% off your first order.
How Petcetera is your pet?