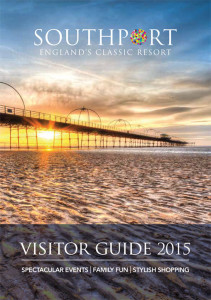 Southport – perfect for weekend breaks
Escape the hectic nature of everyday life by visiting Southport's coastal paradise within easy driving distance of Manchester and Liverpool. Find how to make it special with the Southport Visitor Guide.
Feel the sand of the Sefton coast beaches between your toes, explore the nature dotting the landscape, or play a round of golf at one of the acclaimed golf courses – you'll be treading the same turf as former participants in numerous Open Championships!
Discover exciting day trips to the coast or one of the region's beautiful parks, and find out more about the many varied attractions. Whatever your interests, the 2015 Southport brochure helps you capitalise on every opportunity family adventures or romantic getaways for two.
Want to know more about your surroundings? The Southport brochure has sections on Southport's history, its indoor and outdoor attractions and the numerous hotels and bed and breakfasts up and down the coast.
Looking for a daily recommendation? The 'What's On' feature gives a monthly Southport event list and adds detailed descriptions so that you know which ones not to miss.
Make the most of every day and every meal with the best recommendations of where to stay, where to eat and what to do in the evenings.
The enthusiasm of Southport contagious, so if you're looking for a family vacation at a beachside paradise order the Southport 2015 brochure for seaside holidays closer to home.