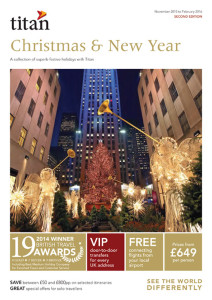 Enjoy different Christmas Holidays this Year…
Does a traditional Christmas feel pretty non-stop to you? Office parties, buying presents and making stuffing? Then why not take a new approach towards the Christmas holidays and enjoy a festive holiday away!
Thanks to Titan Tours there's no end of options where a Christmas holiday (of any length) can be neatly included into the festive season, leaving plenty of time if you still want to spend Christmas at home with loved ones.
Continental Christmas Markets
This three to four day cruise and stopover cruise takes you to the famous Christmas markets of Antwerp and Amsterdam. Not only are these short breaks very affordable, but they also provide the perfect setting for Christmas shopping overseas! Find exotic and unique Christmas presents for friends and family!
Festive Dublin
Ireland is transformed over Christmas, with an indescribable sense of good cheer and seasonal magic! Overnight cruises are a great way of making a quick trip to the Emerald Isle, with Dublin making the perfect destination for shopping, Christmas celebrations and of course plenty of festive fun!
A Short Break In The Big Apple
An amazing offer from the Titan Travel brochure is six fabulous nights in New York City, staying in the Wellington Hotel (a stone's throw from Central Park). Christmas in New York is utterly enchanting. This colourful city embraces Christmas like few others, and not only is a wonderful place to soak up the festive season with ice skating, carol singing and shopping but also has so much to do you'll need all six days just to see it all!
Cruise Away From It All – Christmas & New Year In Madeira
For a truly unique Christmas experience this cruise is a wonderful way to get away from it all and enjoy a festive break like no other. A fifteen day cruise around the Canary Isles and Madeira is the perfect way to end the year and celebrate Christmas with plenty of stops for sightseeing and excursions! New year is spent in beautiful Funchal, and with excellent offers open for early bookings this is a way to enjoy Christmas holidays you will never forget.
A River Nile Cruise
Titan Travel offer this splendid Christmas cruise for those looking for a Christmas adventure. A cruise on the Nile is one of those iconic trips that everyone should try to experience at some stage, and offers a means to enjoy a comfortable climate on board a luxury class vessel. With daily stops and opportunities to enjoy a wide range of excursions and tours, this is a wonderful way to find those 'one-off' gifts while enjoying a holiday of a lifetime.
For a full list of unforgettable Christmas breaks and festive holidays, view the Titan Travel Christmas & New Year brochure now.