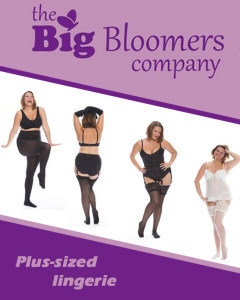 Comfy underwear & sexy lingerie for all shapes & sizes
Big Bloomers underwear keeps lovely plus size ladies comfy, stylish and sexy day or night. Durable underwear and flexible fabrics show off your curves when you want them to and keep everything where you want it. Once you sign up for the Big Bloomers eNewsletter, you'll be able to browse through fantastic deals on specific items that are made exactly for your body type – for less!
Big Bloomers has everything from bras, seamless shorts, panties, wide knee highs, waist slips, tights and T-shirts. Whatever size you happen to be, you won't be limited by this range. Big Bloomers love fair prices on plus size underwear, but signing up to the mailing list means you'll never struggle to find plus size underwear ever again.
Big Bloomer bras come in a great assortment of sizes and styles, including the new slip on bra that doesn't have any uncomfortable adjustments to deal with. Tights come in economy, cotton, opaque, sheer, and fishnet, just to name a few. The width of waist offered in the larger sizes of tights covers all body shapes – perfect for flattering figures and flaunting your best bits.
No more tights that are too small around the waist and restrict breathing! All of the tights have a fun variety of colours to choose from. On the sexy side of things, there are plenty of stockings, knee highs, and hold ups in microfiber, lace and fishnet varieties, all with a nice wide leg for fit.
Finding affordable but long lasting underwear is important, especially if you can't find the right size in department stores. The Big Bloomers eNewsletter will keep you updated on the latest deals and styles so you can just hop online and just pick out everything you need.
Big Bloomers is dedicated to serving the needs of plus sized women in their search for affordable style and comfort. Underwear is the first thing that you put on in the morning and the last thing that you take off at night, and Big Bloomers is firmly aware of a plus sized woman's needs.
Sign up to the Big Bloomers eNewsletter for all of your plus size underwear needs taken care of forever.