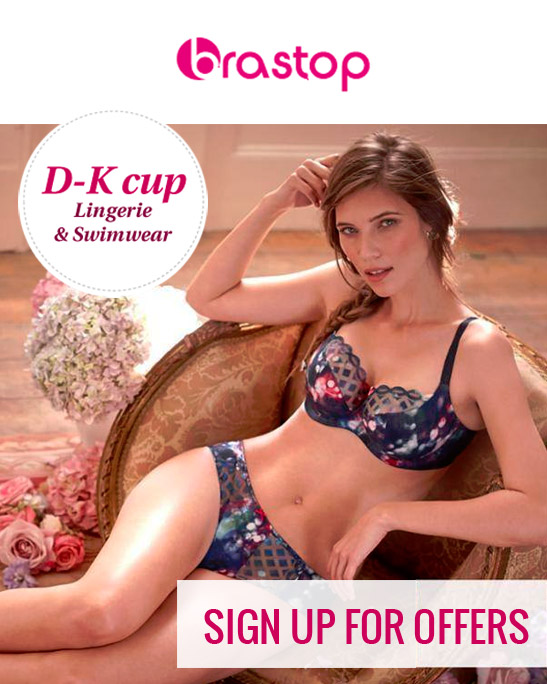 Plus size lingerie & Underwear
Every woman should feel amazing every day. Brastop helps women look a way that makes them feel fantastic in cup sizes D – K.
Brastop boosts your confidence, giving you the freedom to choose your style in ranges that flatter every body shape. Quality lingerie makes your clothes look better on the outside particularly if you follow Brastop's helpful fitting guides.
Brastop sourece their collections from the best larger cup brands there are. They range from D to K cup swimwear and lingerie with back sizes of 28-44''. The diverse collection consists of the trending styles and timeless favourites – perfect for everyday comfort as well as those special occasions…
Their low prices on bras, underwear and swimwear go as low as as it gets – and that's before their offers! And with free delivery in the UK, this may well be your new favourite shop.
Information is the key to getting the right underwear fit. Brastop gives updates to customers through their eNewsletter and measuring tips to help you buy the right size. Sign up to the enewsletters to:
Be the first to know when new arrivals are available.
Get information on exclusive offers, savings and discounts.
Be the first to see latest styles
Get information on fitting tips.
Brastop also accepts returns as long as the item is not marked "non-returnable". A full refund with delivery is provided in case an order has been cancelled or if even if you change your mind!
Check out their website to see some of the items they offer before you order. If you tend to shy away because you struggle to find the right fit, Brastop lingerie is your new best friend. Brastop has everything you need for you to look beautiful and sexy, and stay comfy!
Sign up to the Brastop eNewsletter here for plus size women's underwear.