Brilliant Winter Breaks in the Sun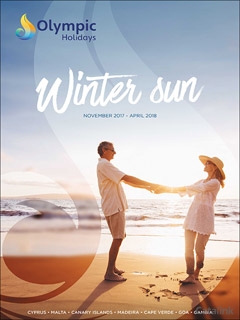 Olympic Holidays provide getaways in amazing places designed around you. Request the Winter Sun Brochure today for inspiration on escapes to brighten up your winter!
The Winter Sun collection includes a fantastic range of breaks to rest and relax in the warm winter sunshine.
Discover Madeira, comprising of 4 volcanic islands, it offers high cliffs and mesmerising views. Uncover the historical architecture from the 1500's and savour the wonderful local cuisine.
Lanzarote offers the perfect beach break with hair-raising water sports and beautiful volcanic landscapes. Be sure to pamper yourself at the brilliant spas too!
Carpe Verde has incredible cuisine and music to savour, as well perfect weather for a winter sun holiday.
Request the Olympic Holidays – Winter Sun Brochure for unmissable winter escapes!