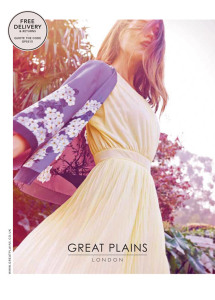 Make this year your most stylish yet
Have you been in hibernation for weeks?
Then come out of it in style with the new Great Plains collection!
Satin designs and flowery prints combine to give you an effortlessly youthful look. Their flattering fits and unique accessories will guarantee to help you piece together as bold a wardrobe as you dare – all with exclusive offers and discounts to help you get what you want.
Take the first step to a more gorgeous, confident you; order the Great Plains catalogue now.