Electricals, gadgets and tech at great value!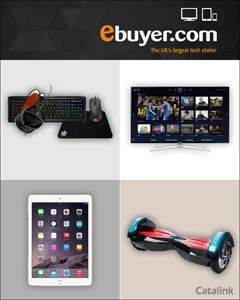 Most of us have probably made this mistake whilst shopping online before– You make your order, and patiently wait for it to be delivered, only to find out afterwards that there was a better deal on another site, leaving you kicking yourself for not finding that deal earlier! Thanks to Ebuyer however, you can now save yourself the trouble in your future purchases, by having the best deals sent directly to your inbox!
Whether you're looking to save money on a new hard drive or a whole new PC, you'd want to find the best deals and save as much money as you can. Scouring the internet to find the best deal can often be a time consuming affair. Plus, you could still never be sure that you are getting the best deal. By signing up to Ebuyer, you will be the first to know about the exclusive deals on their huge range of electrical goods, and new additions as well.
Ebuyer – Shopping Made Easy!
To get updates on exciting new electrical goods at low prices, all you need to do is to join the Ebuyer mailing list. As a member, you'll be kept updated with the discounts on the essential electrical gadgets, equipment and accessories!
By signing on, Ebuyer will also tailor your promotional emails to your interests, so that you will always know when you can get the best deal on what you want! Planning on topping up your office supplies? Ebuyer can show you the best deals on both stationary and equipment like printers, keyboards and mice. Want to make the best out of your home entertainment? Then sign up for deals on essential equipment like HDMI cables, TVs, consoles and speakers!
Never miss out on these exclusive offers on electrical goods, and Sign Up to the Ebuyer newsletter today!