Products that give you independence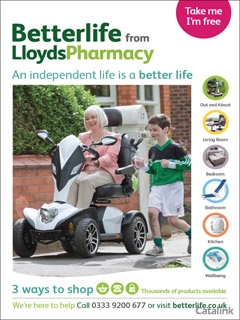 Betterlife from Lloyds Pharmacy offer a wide range of solutions to help with everyday tasks. From bathing and dressing to cooking and gardening. Request the Catalogue today for products to help retain your independence and support your everyday needs.
Shop for mobility scooters to give you the confidence and freedom to get out and about, whether that be visiting family and friends or travelling on holiday. Use the invaluable scooter buyers guide to find the perfect scooter for you!
Get clothing and footwear to assist in your daily activities. There's dressing aids and foot care so you'll always be able to face the day ahead with a spring in your step.
Request the catalogue today and get 10% off when you spend £150 (CL10) and 15% off when you spend £500 (CL500).
Explore the daily living range for inspired products to enhance your life. From kitchen and dining aids to Bathing and visual aids, there's a huge collection of solutions!
Request the Betterlife from Lloyds Pharmacy Catalogue now for a full range of invigorating products.