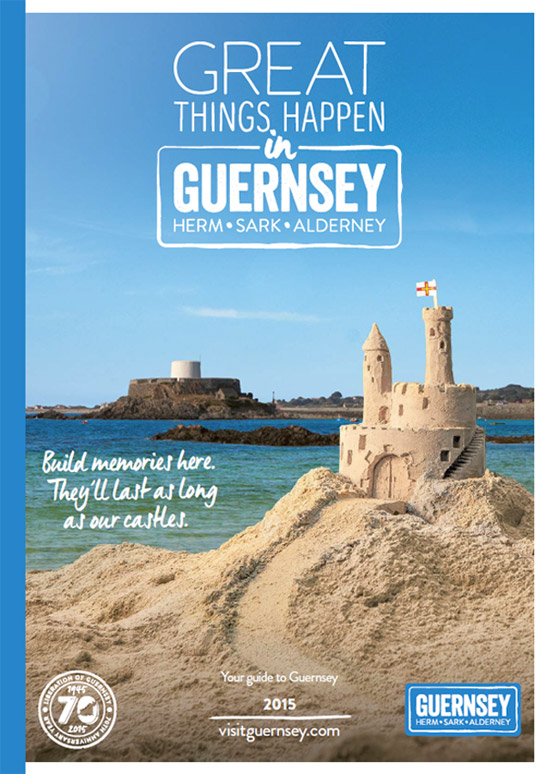 Visit the Island everyone is talking about!
With its breath-taking views, its stunning beaches and its rich heritage, Guernsey is an island with wide appeal, all contained within 25 stunning square miles. Compact and accessible, the Channel Islands are officially the sunniest place in the British Isles! Order your Visit Guernsey brochure for all the information and tips you need to make your trip to Guernsey an unforgettable one.
Whether you are looking explore the Island's incredible natural heritage, breath-taking scenery, or looking for a relaxing island get-away, there is something to suit everyone's taste.
For those with an interest in Guernsey's cultural heritage, there is also much to see and do. Throughout the year there are festivals and exhibitions, as well as permanent attractions such as Hauteville House, Victor Hugo's holiday home on the island, the Little Chapel or the historic town of St Peter's Port itself. Your Visit Guernsey brochure has everything you need to see and experience the 'Jewel of the Channel Islands'.
For food lovers there are spectacular restaurants, amazing pubs, quaint tea rooms and friendly cafes in abundance. One thing's for sure, you certainly won't have to go far to eat well on Guernsey!
Request your Visit Guernsey brochure today to plan your trip and take advantage of the vast range of activities and attractions the island has to offer!
With details on where to stay, whether it's in one of the island's many hotels, self-catering accommodation, or on a local campsite, there are plenty of options for parties of any size and any budget. Your Visit Guernsey Brochure provides information on many of the available deals and breaks, so if you want to find out more about taking a break in the Bailiwick of Guernsey, whether for a few days or a few weeks, why not request your Visit Guernsey brochure now!
Order your Visit Guernsey Brochure today and start planning your unforgettable island escape.