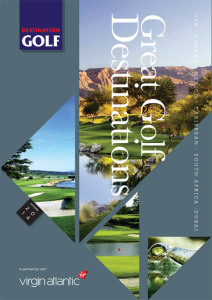 How to play the perfect game
Playing golf is great. And if you love to tee off on the weekend, why not take it one step further?
Destination Golf give you a collection of unforgettable global courses that will transform your game – whether you win or lose!
Set in some of the most stunning locations across the world (including the UK) you can enjoy all the extra pleasures that golf has to offer. Indulgent hotels, luxurious facilities and pampering extras will guarantee you enjoy a holiday to brag about when you come home.
Order your Destination Golf – Destinations brochure now to set off on the ultimate golfing holiday.