Award-winning naturally focused skincare – made by British bees!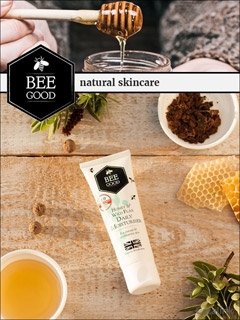 Discover the most incredible range of natural skincare products around. Bee Good bring you a beautiful selection of premium skincare made using British beeswax, honey and propolis. Sign up to their newsletter today to discover all they have to offer.
From cream cleansers, daily moisturisers and facial exfoliates, to lip balms, cleansing water and much more. Explore a exquisite and gentle brand designed to make your skin happy again.
Supporting their bee ingredients directly, the experts at Bee Good know all their bee farmers directly. This means that they know exactly where their ingredients come from.
Discover their range of youth enhancing skincare, with eye creams, serums and moisturisers. Get all the best nutrients for your skin when you shop with Bee Good.
Experience the amazing benefits of British bee sourced ingredients with Bee Good. A natural healer to the skin let your skin feel pampered, protected, hydrated and youthful from the natural honey, supple propolis and protective beeswax.
Sign up to the Bee Good Skincare newsletter today to pamper yourself. Receive member only updates and offers on beautifully natural skincare, made by British bees!