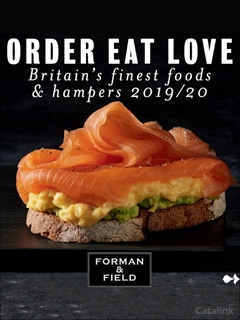 Forman & Field bring you bespoke gourmet food, delicacies and more. Get access to ingredients that all the top chefs have when you order their catalogue today!
From their world-famous gourmet food, salmon, high-quality meat and delicious poultry to cheese selections, puddings, and incredible pies, there is so much to choose from with Forman & Field.
Forman & Field is dedicated to bringing you nothing but the best food around, that's why you won't find anything better. Order their catalogue to explore their range today!
Here's why Forman & Field food tastes so good:
every dish is as fresh as a daisy!
everything is handmade
You get exactly the same ingredients as world-renowned chefs do
They hand pack every order to ensure your food arrives in perfect condition
Offering a beautiful selection of gourmet food, hampers and picnic baskets, you can get prepped for special events and Christmas time – you won't regret it!
If you're lacking inspiration, the experts at Forman & Field have a huge selection of inspiration ideas waiting for you. From breakfast ideas, party foods and Sunday lunch inspiration to dessert ideas, party lunches and so much more.
Order your free Forman & Field catalogue today for a great selection of gourmet meats, cheese, desserts and more!