The World's First Mouldable Glue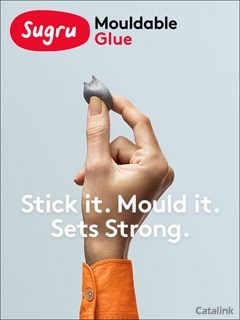 Sugru is the world's first Mouldable Glue that sets strong by turning into a durable, flexible silicone rubber with some pretty amazing properties.
Invented to get a new generation fixing, making and improving stuff. Sugru sticks permanently to lots of materials like glass, ceramic, wood, metal and plastics*.
Out of the pack, Sugru Mouldable Glues are designed to feel soft and malleable like play-dough. Mould them by hand into any desired shape and they will flex with the materials they're applied to. So you can fix things that need to bend.
Wrap Sugru around your electrical cables to stop them from fraying. Use it to bond items to walls – it will hold 2kg/4.4lb in weight. There are thousands of DIY, craft and creative projects that Sugru is perfect for.
Once cured, Sugru is waterproof, weatherproof and durable, just like other silicone rubbers. Use it in challenging environments like wet bathrooms and hot showers – even the great outdoors. It's also temperature-resistant up to 180°C (356°F) and down to -50°C (-58°F). It's great for repairing the seals on washing machines, dishwashers and fridge freezers.
With the new Sugru Family-Safe | Skin-Friendly Formula, now kids and the whole family can discover the joys of fixing. Making and improving stuff. Just let their imaginations run wild.
Sign up to the Sugru Mouldable Glue newsletter today and learn all the inventive ways to use Sugru, explore the full range of innovative products, and get updates and deals direct to your inbox!