order the Shipton & Co Jewellery Catalogue
Supplying vitamins, minerals and supplements for over 40 years
SHIPTON & CO – Creators of fine jewellery since 1870
With five Generations of jewellers at the helm, the family heritage of Shipton & Co., is clear to see in their range of products. As you'd expect from a family run business steeped in the creation and manufacture of fine jewellery, they have a huge and unique range, over 26,000 items in fact. In their catalogue there around 350 of their new and best selling lines, here they combine new contemporary collections with some their stunning quality heritage collections.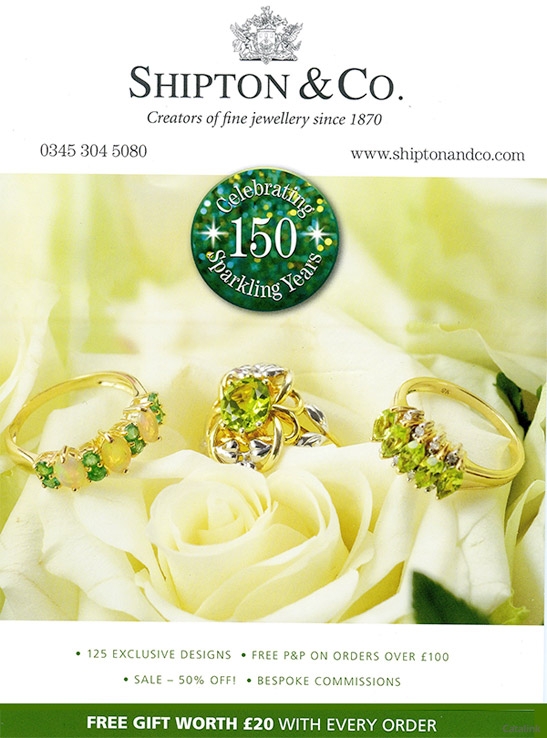 As designers of fine quality stone set creative jewellery you'll notice the difference the moment you compare one of their gems to the majority of stones offered today their diamonds are also handpicked for colour, clarity, and cut. All their diamonds are ethically sourced for complete peace of mind. The same kind of uncompromising care goes into sourcing and choosing their pearls, assuring you of a weight and lustre that is truly hard to match anywhere.
In their catalogue collection, they've put together their favourite pieces, some brand new, some traditional, some contemporary and some vintage classics which have been the choice of several generation. If you have a bespoke piece in mind, they'd love to hear from you. You can also see more ideas by visiting their website where they show you each piece under a jeweller's magnifying glass.
Order the SHIPTON & CO JEWELLERY CATALOGUE to help support your health and wellbeing.