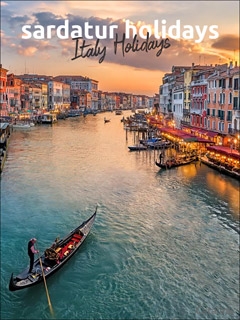 Sardatur Holidays want to help you discover the best of Italy. Sign up to their newsletter today to plan an unforgettable trip to Italy!
The experts at Sardatur Holidays carefully select hotels and resorts in Italy, which they know you will love. Explore an exclusive selection of luxury villas throughout exceptional locations today.
Whether you're looking to treat yourself to a 5* Luxury escape, want a relaxing beach holiday for the whole family or want to treat your partner to a spa getaway, they have the perfect holiday for you.
Visit Sardinia, Sicily, Puglia, Tuscany and other beautiful locations across Italy. Let Sardatur Holidays plan the perfect trip that you're sure to remember for years to come.
With a range of experiences built for special occasions, you're sure to fall in love with everything Italy has to offer. From romantic packages, Christmas market experiences and Tuscany treasure tours to wellness packages, culture trips and so much more!
Don't wait any longer to book the holiday of a lifetime, sign up to the Sardatur Holidays newsletter today!