Order the JULES VERNE – THE WONDERS OF EGYPT BROCHURE
Jules Verne is thrilled to unveil their brand-new brochure, The Wonders of Egypt, where they invite you to embark on a journey of discovery through ancient lands on their small group tours and cruises.
From the indomitable Pyramids, the last remaining wonder of the ancient world, to the Temples of Karnak, built across a period of 2,000 years, Egypt is a never-ending treasure trove of history and culture. Jules Verne's trips have been designed to extract the very best of the country, from bucket list sites to rarely visited gems sought out by their team of experts. They offer Nile cruises ranging from four to 14 nights, catering to every traveller – from the first-time visitor to the Egypt expert.
Starting in Cairo, Lake Nasser & the Nile is a new 10-night trip combining a land stay in the capital with two contrasting cruises: four nights on Lake Nasser, and three nights from Aswan to Luxor on the MS Hamees. It's the only itinerary that visits the temples of Lake Nasser by water, making it ideal for those after an alternative take on the region. Travellers will also explore renowned sites including the Pyramids of Giza, the ancient treasures of Luxor, and sail to Abu Simbel to witness a delightful sound and light show.
The Timeless Nile by Royal Steamer sails on the SS Misr. This vessel is home to just 24 cabins, providing an intimate and personalised experience with décor befitting its royal heritage and original steam engines still viewable. This exclusive new Jules Verne charter includes a visit to the ancient, rock-cut temple complex of Abu Simbel and a rare visit to Denderah, one of the best-preserved temples in Egypt dedicated to the goddess Hathor.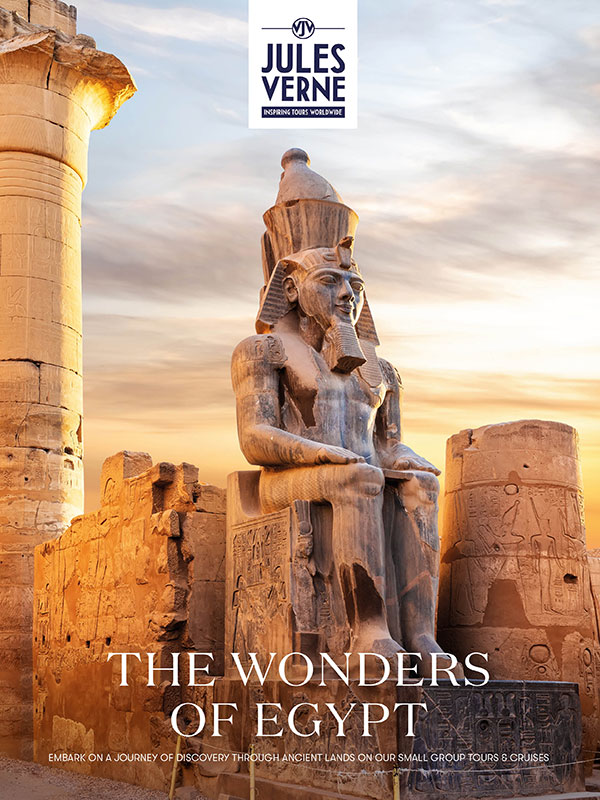 Classic Week on the Nile
Ideal for Those Short on Time
Sailing on MS Hamees
Exploring the Valley of the Kings, Kom Ombo, Edfu Temple, and Aswan
Unpack & Explore in Luxor
Perfect for Land Enthusiasts
Eight-Day Itinerary Based in Luxor
Witness the Valley of the Kings, Temples of Karnak, and More
Stay at the Serene Pavillon Winter Hotel
Upgrade to Sleep at the Palace (Additional Supplement)
Gems of Cairo
Dive Deep into Cairo's Cultural Attractions
Four-Night Stay in Modern Cairo
Full-Day Tours to the Pyramids, Memphis, and Saqqara
Visit the Egyptian Museum (Transitioning to the Grand Egyptian Museum)
Free Day for Personal Exploration
Existing Cruises
Pyramids & the Nile: Classic Egypt Experience
Treasures of the Nile: A Less Trodden Path
The Secret Nile: Extended Adventure
600-Mile Nile: Discover Renowned and Overlooked Wonders
The Journey on the SS Misr
Unparalleled Onboard Experiences
A Royal Steamer Restored: Seven-Night Voyage (Luxor Departure and Return)
Traverse the 600-Mile Stretch: The Original Nile by Royal Steamer (Aswan to Cairo)
Request the Jules Verne – The Wonders of Egypt Brochure today!