Contact lenses the easy way!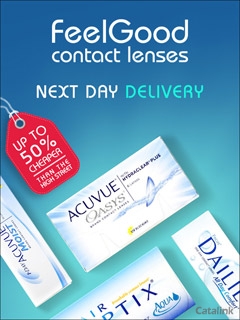 As the UK's number one supplier of contact lenses, Feel Good Contacts have a huge range of branded lenses for every need. With price match guarantee and incredible customer service, you'll find everything you need with them. Sign up to their newsletter today to keep up to date with the latest offers and deals.
From daily, two weeklies, multifocal and coloured contact lenses to solutions, eye care products and designer sunglasses, there is something for everyone.
The best part? No prescription is needed! If you know what you need and like, just order whenever you require without having to show your prescription.
The experts at Feel Good Contacts are committed to providing you with the best possible service and care. They are available to help you with any queries you may have – whatever they may be.
Discover their eye care centre for all your eye care needs. Sign up to their newsletter for helpful information and tips direct to your inbox today!
You won't find such top quality service, products and great prices anywhere else. Don't wait any longer, discover designer sunglasses such as Gucci, Oakley, Nike, Police and Ray Ban. Get ready for your holiday with the perfect pair!
Sign up to the Feel Good Contacts newsletter to explore all their incredible products receive updates from the professionals and get great deals direct to your inbox!