Award-winning skincare, toiletries and luxury scented candles!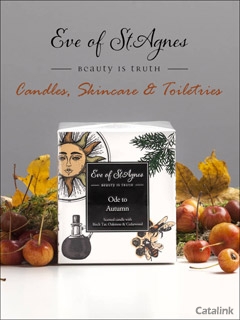 Eve of St Agnes bring you a selection of incredibly scented candles and natural skincare. All made with natural ingredients, free from harsh chemicals, parabens and synthetic fragrances. You can find something beautiful with them. Sign up to their newsletter today to explore their full range!
Inspired by one of England's finest Romantic poets, John Keats and his poem 'The Eve of St Agnes'. The ingredients in their skincare and toiletries are pure, imaginative, sensual and natural. Just like the themes throughout Keats work.
From candles and soaps to skincare and beautiful gifts, you can find something made for you with Eve of St Agnes. Sign up to their newsletter today to explore all they can offer you.
Discover winter candle collections, autumn scented candles. Expore lavender hand soaps, shea butter bar soaps and so much more.
Their natural skincare range has been designed for those with dry, mature and sensitive skin types. So that you can help your skin feel amazing with all natural ingredients.
Sign up to the Eve of St Agnes newsletter today to explore their incredibly scented range. Receive member only updates and exclusive deals and offers on the best candles, skincare and toiletries around!