Making Holidays Affordable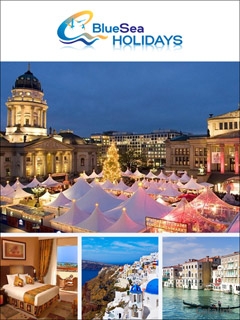 Have you ever had to settle for less whilst away? With Blue Sea Holidays you won't ever have to again. Sign up to the newsletter today for incredible deals on holidays all over the world.
A reinvigorating holiday to paradise should be for everyone. Blue Sea Holidays are provide quality getaways to the best European destinations.
Discover how easy planning a holiday can be and experience luxury without the price tag.
Winter Sun – Canaries, Egypt, Algarve, Malta
City Breaks – Xmas markets, Berlin, Venice, Rome, Budapest
Family fun – enjoy carefully crafted holidays designed to give you all something you want
Young and lively – experience the joys of lazing on the beach by day and partying by night
Luxury – indulge in fine dining, spas, scenery and service without breaking the bank
Leave worry behind – all–inclusive packages will ensure you don't spend a single second worrying
Peace of mind – their expertise and experience makes sure you, your money are protected at all times.
Blue Sea Holidays lets you tailor accommodation to suit your tastes, budget and group. Choose a holiday theme that'll keep you satisfied throughout. And with their exclusive eNewsletter, you'll see how easy it is to make your money go further.
Sign up to the newsletter today to start your journey here!