Delicious meals delivered to your door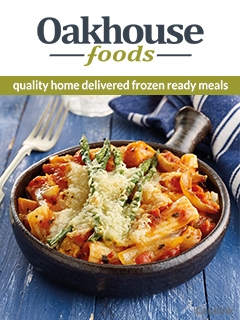 Oakhouse Foods bring you a huge selection of homemade frozen meals delivered to your door. Helping make life easier for you, you can choose from their delicious range of meals suitable for everyone. Get your free copy of their brochure today to discover all they have to offer.
Take your pick from over 300 delicious recipes and they'll deliver straight to to your door. Choose from classic cottage pies, roast dinners, delicious soups, jam sponges, apple pies and more.
If you're following a special diet there's bound to be something for you too. The Oakhouse range includes low sugar, gluten free and low fat meals. Just pick from the list of special requirements to find your perfect meals. If you want some help choosing, the friendly staff at Oakhouse Foods will be happy to talk through the range with you.
Every meal in the Oakhouse range is cooked in the traditional way. From wholesome, store cupboard ingredients that are all free from artificial colours, flavourings and MSG too. So you can be sure it's just good food and nothing else.
Thanks to their friendly delivery drivers you can have all your meals delivered to your door every week or fortnight. There are no obligations or minimum orders so you can just order what you want, when you want. Best of all, delivery is free when you spend £30 or more.
Request your free copy of the Oakhouse Foods brochure today and start enjoying easy, tasty meals every day of the week.