Glorious Summer Holidays for 2018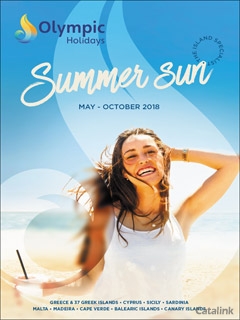 Olympic Holidays provide getaways in European destinations designed around you. Request the Summer Sun 2018 Brochure today for inspiration on delightful summer holidays.
The 2018 Summer Sun collection includes island hopping holidays in Greece and party holidays perfect for letting your hair down in bustling destinations! There's also holidays designed for families to ensure everyone can enjoy your summer escape.
Discover the Balearic Islands for the party holiday of your lifetime in Ibiza, soak up the sun in the day and head to the strip at night for the world-renowned nightclubs. Enjoy a family getaway in Menorca for thrilling activities and cultural festivals!
Visit Cyprus for year-round sunshine and golden beaches, explore the vineyards and glorious pine-covered mountains too.
Explore the all-inclusive range from Olympic Holidays for the full luxury service on your summer holiday!
Request the Olympic Holidays Summer Sun 2018 Brochure today for full details on the incredible summer collection!