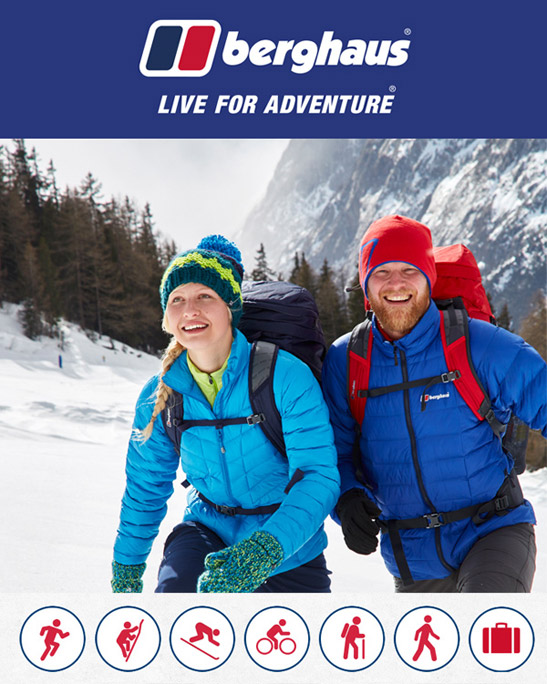 Quality Outdoor equipment and clothes
Keep up with colder weather with the latest quality outdoor gear from Berghaus – sign up to the Berghaus e-Newsletter for offers on camping equipment and waterproof clothes. Get the latest Berghaus offers, get discount codes for the best waterproof jackets on the market and make sure you always stay warm when out with shoes for hiking, camping gear, comfy rucksacks and so much more.
Before heading out trekking, camping, walking, climbing or cycling, take a look at the Berghaus e-Newsletter for tips on how to choose the right outdoor clothes and equipment for different a huge range of activities. You'll also get insights into specific improvements to standard gear to make them safer, more weatherproof and even more comfortable.
Berghaus pride themselves on fabric innovation to help you stay as active outdoors as possible. No more waterproofs that get too hot or hiking shoes that give you blisters. Everything they make is iof a standard that guarantees the highest quality – letting you walk in comfort, climb in safety, camp in dryness and stay active for longer.
Receive the latest offers on gear for your favourite outdoor activities from the Berghaus eNewsletter. You'll get updates on the latest upgrades and versions as well as fitting guides to help you choose what you'll need and what suits your needs best.
Receive discounts on purchases and get tips on safety, fashion and how to buy the most suitable outdoor equipment for your needs.
Sign up to the Berghaus eNewsletter for the best outdoor clothes and equipment for trekking, walking, campaign, skiing and everything inbetween.