The online flash sale shop – homeware, gadgets, technology & more!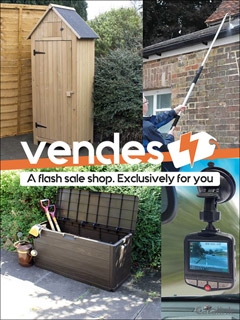 Vendes bring you a unique and money saving experience . It's an online flash sale shop that gives you exclusive deals on great products! Sign up to their newsletter today to discover all they have to offer.
Find garden tools, home maintenance, technology, fun gadgets and travel items. You can find something perfect for everyone when you shop with them.
Sign up to their newsletter today to become a part of an exclusive club. Get access to fantastic deals that you won't find anywhere else!
What you can expect from Vendes:
•48-Hour Flash Deals: They run new deals every couple of days and they will land directly in your inbox
•FREE Membership: Becoming a Vendes member won't cost you a penny
•Exclusive Deals: Every deal is exclusive to Vendes members. This is a VIP club
•Price Match Guarantee: If you find the same product cheaper elsewhere, they'll match the price
•Guaranteed 7-Day Delivery: They will deliver your order within 7 working days of a deal ending. If they don't, they will refund your postage costs
•30-Day Money-Back Guarantee: Once you receive your order, you have 30-days to return the goods.
Sign up to the Vendes newsletter today to receive exclusive offers and discounts straight to your inbox!