Latest & Modern Jewellery Designs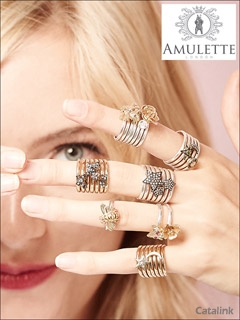 Amulette design award winning jewellery. Their range is as eclectic, unique and individual as its wearer. Order their catalogue today to discover their beautiful selection of personal jewellery.
Created from precious metals, sterling silver, gold and rose gold, set with unique hand picked gemstones and diamonds. Amulette allows you to personalise your pieces with individual charms and pendants.
Shop their incredible Labyrinth charm rings. Stack your favourite rings to make your own custom piece. Choose from their selection of beautiful charms to add a touch of something special to your ring.
From pendants, necklaces and earrings to ear cuffs, bracelets and so much more. Order their catalogue today to explore their range.
If you have a love for beautiful things, Amulette is the place for you. From the simple but beautiful, hand carved charms to the fabulous hand picked gems, there is something to suit every taste.
Order your free copy of the Amulette Jewellery catalogue today! Explore their beautiful range of designer jewellery that you're sure to fall in love with.