The best of british tailoring & menswear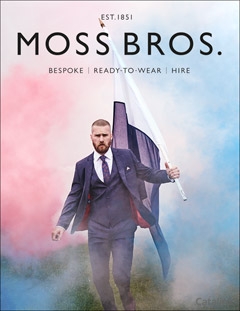 Moss Bros have been suiting men for generations. If you love a tailored look made with ease, they have exactly what you need. Sign up to their newsletter today and discover their range of menswear – you're sure to get hooked.
Are you drawn to high quality and timeless designs? Do you love finding the perfect suit with all the trimmings without any trouble? Moss Bros is the perfect fit for you. From fully tailored suits, slim-fit shirts and suit shoes to complete the look to a range of casual wear, full length coats and jeans. Find a little bit of everything with Moss Bros.
Their dedicated team of stylists and designers are available to help you with whatever you need. From suit fitting services to some friendly fashion advice, you'll get the best service with Moss Bros when you sign up to their newsletter today.
With a huge range of accessories, you can kit yourself out with leather bags, suit carriers, cufflinks, scarves and more. Complete your look to your exact specifications without breaking the bank.
If you're shopping for a special occasion, you can find the perfect outfit here! From wedding attire, prom suits and graduation clothes to white tie events, interview attire and race day suits. What more could you want?
Sign up to the Moss Bros newsletter today to receive exclusive member only discounts and updates from the suit experts.