Discover Eastern Europe by Private Train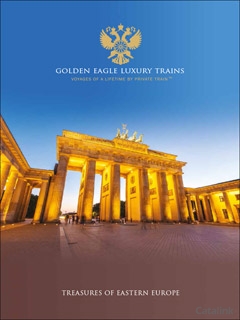 Golden Eagle Luxury Trains invite you to see the best of Eastern Europe on this voyage between Venice and Budapest. Request the Treasures of Eastern Europe Brochure today for the full itinerary.
The Treasures of Eastern Europe is a 14 day exploration across the cities of Venice, Vienna and Prague.
You'll delve into the poignant past of World War Two's most influential cities in Germany and Poland. On board the Danube Express you'll see lush landscapes and stop at world-renowned sights.
Explore Germany and take delightful strolls through the medieval streets of Zittau. Experience Berlin and enthral yourself in the museums and the thriving cultural life.
Adventure across Poland and descend the 360 steps into the mines in Krakow. Take cable car rides to Gubalowka mountains and admire the views from your unique vantage point.
You'll be travelling in luxury on the Danube Express where you can expect deluxe cabins with en-suite facilities. There's delectable dining in the beautiful Restaurant Car and relaxing pastimes in the Bar Lounge until late.
Prices from £9,495.
Request the Treasures of Eastern Europe Brochure today for everything you need to organise your next holiday!