Luxury Voyages in Italy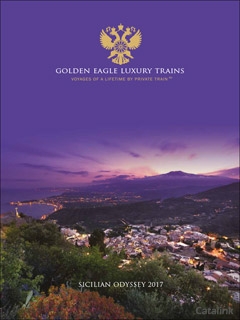 Golden Eagle Luxury Trains provide expert-led private rail journeys tours across Europe, Russia, Central Asia, China and Iran. Be one of the first to experience their exclusive tour of Italy in 2018. Download the Brochure now.
The Sicilian Odyssey tour is a 12 day exploration of the finest scenery and attractions in Italy. You'll see ancient history and vast architecture between Venice and Taormina.
Discover delicious food in Bologna and get a guided tour through the old-town in Bari to see it's domineering fortress and castle. Take a test drive at the Ferrari factory in Maranello. The signature experiences are endless.
Visit Pompeii and see the hair-raising remains of the eruption that has been preserved since 79AD. See the wonderful attractions of Rome starting with an introductory tour of the World Heritage sites. There's endless photo opportunities!
With Golden Eagle Luxury Trains you can expect the finest accommodation and entertainment on your luxury private train, the Golden Eagle Danube Express.
Prices from £9,495.
Request the Golden Eagle Luxury Trains – Sicilian Odyssey brochure today to start your journey here!