Order the Free Jules Verne – Worldwide Journeys Brochure 2023.
Jules Verne are delighted to unveil their new look Worldwide Journeys brochure covering departures until December 2024, bringing you innovative itineraries across five continents delivered by travel experts. Travelling in companionable escorted groups, each itinerary has been carefully created to capture the essence of each destination visited, as well as allowing ample time to explore independently or to relax and soak up the sights. Packed with special touches and little extras, our expert guides will show you the true character of each destination and take you beyond the norm, whether your chosen destination is closer to home or far-flung.
Jules Verne are delighted to share this new brochure, with a brand-new look and design; we honour different people and cultures from around the world, as well as showcasing some of our hand-picked local guides who are always so proud to introduce you to their countries.
In addition to further departures and improvements on our wide-ranging global portfolio, we are delighted to launch two new tours, visiting brand-new destinations – 'Islands in the Channel' explores the hidden delights of the Channel Islands, island-hopping between Jersey, Guernsey, Sark and Herm; and 'Mughals, Mystics and Mountains' showcases all that northern Pakistan has to offer with its astonishing mix of traditional cultures and awe-inspiring untouched natural beauty. We also welcome 'A Taste of Veneto' to the brochure for the very first time – travelling from Venice to Milan, this tour is a refreshing week of discovery visiting famous vineyards, tasting wonderful wines and touring the characterful towns of the region.
We feature Early Booking Offers on a 'Grand Tour of Turkey' discovering its' Greek, Roman, Byzantine, Ottoman, Hittite, Trojan and Seljuk heritage; perhaps explore France with a river journey from Paris to the coast of Normandy, or cruise along the Rhone visiting the regions of Provence & Beaujolais. Alternatively, discover the legendary Mekong from Ho Chi Minh City to Phnom Penh on 'The Original Mekong Cruise'.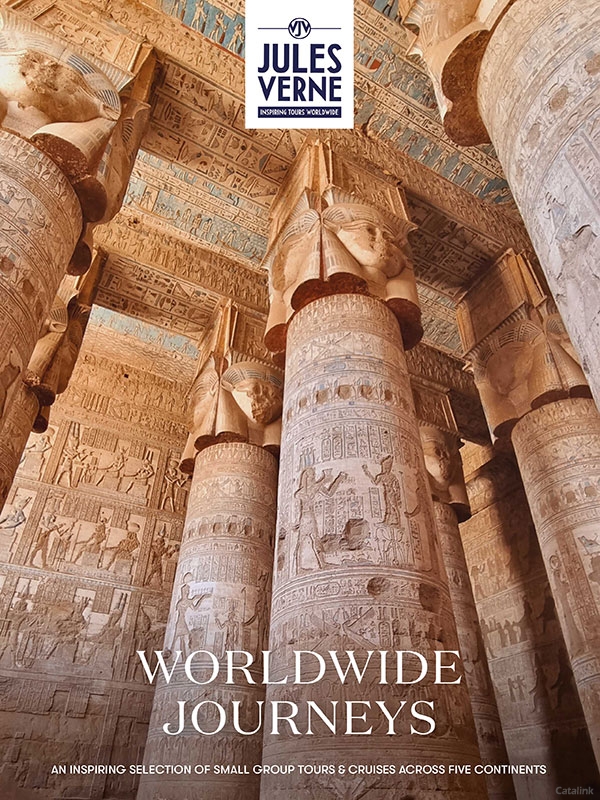 We also offer an exceptional selection of No Single Supplement and Solo Group departures; join one of our classic touring, cruise, wildlife and classic resort programmes with No Single Supplement on selected dates, or a Solo Group departure comprised only of single travellers, following one of our regular programmes. Choose from Egypt; cruise on the 'most luxurious steamship on the Nile' on 'A Royal Steamer Restored', experience the full Nile cruise on 'The 600-Mile Nile' or combine the 'Pyramids & the Nile' cruising from Luxor to Aswan. Alternatively, enjoy a week's stay in Italy at the 'Grand Hotel on Lake Como' or on a comprehensive journey discovering the 'Treasures of Sicily'. Visit many of India's most famous monuments and cities from the Taj Mahal and Agra and Amber forts on 'Highlights of Northern India', or discover the 'Lost World of the Incas', to mention a few.
Our 'Great Journeys of the World' tours offer something for the adventurous looking for a journey of discovery. Explore cultural treasures and natural wonders, and meet the people that all contribute to form our fabulous planet. These exclusive, small groups offer wondrous experiences and the perfect combination of luxury and service, enlivened with a spirit of adventure. Choose from exploring the Kingdoms of Saudi Arabia or the Ancient land of the Samurai in Japan; experience the most incredible scenery imaginable in Pakistan, discover the ancient lands and medieval cities of the fabled Silk Route or go on an Antarctic Expedition.
We hope that you too will be inspired by our selection of tours and we look forward to welcoming you in the near future. Our 100% Price Guarantee means your holiday price is fixed when you book and you won't ever pay more, even if our costs increase afterwards, we therefore, recommend booking early so that you are covered by our included price guarantee.
To enhance the experience, we arrange exclusive and memorable special events, illuminating the country and people you are visiting. Attend a special ceremony, performance, meal or drinks party at characteristic and spectacular locations; learn about cooking and the local way of life; discover less-visited corners or special locations not normally open to the public.
You'll enjoy a more intimate and sociable atmosphere with the vast majority of our small group escorted tours operating with an average of just 12-18 and no more than 25 people. Allowing you to experience genuine personal travel encounters, delve into your chosen destination in more detail, gain an in-depth understanding of the country you're visiting and experience local life in a more personal and informal setting. We offer privately guided and small group options, so you can enjoy an even more personal experience with family or friends, visiting all the programmed sights, but with your own private vehicle and driver/guide.
Request the Jules Verne – Worldwide Journeys 2023 Brochure today for inspiration on the trip of your lifetime!