Personalised, hand-made, bespoke gifts!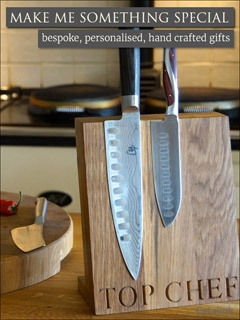 Make Me Something Special specialise in making you the most perfect gifts imaginable. Their products are made from incredible quality wood and designed with you in mind. Sign up to their newsletter today to discover all they can offer.
Find personalised wooden jewellery boxes, gorgeously crafted chopping boards and bespoke cake holders. You can find the perfect gift for everyone with Make Me Something Special.
Shop by occasions, person or room and really discover an incredible range of beautifully crafted wooden pieces.
From stunning christening presents to anniversary ornaments, you can have whatever you desire with Make Me Something Special.
The experts at Make Me Something Special know how important quality and care is. They design and hand-craft each product with you in mind. Don't wait any longer, shop gifts like never before!
Sign up to the Make Me Something Special Newsletter for exclusive member only updates and deals on the most beautiful hand-made gifts around.