Transform your lifestyle with a fully tiled and insulated conservatory roof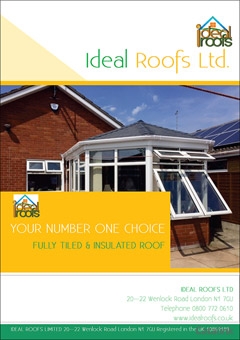 Ideal Roofs specialise in the installation of fully tiled and insulated conservatory roofs. They inexpensively transform part of your home into an extended living space. So that you can enjoy it with your family, friends and neighbours on every occasion.
Request your free no-obligation call back now and discover how they can help you today!
By offering a great choice of roofing solutions for your conservatory, you can be sure they know how to meet your requirements. They will ensure you make the most of your extended living space. Whether it is just to watch the seasons pass, additional room for the grandchildren, the dining room you've always wanted or even your own library area.
A fully tiled conservatory roof brings with it choice. Having the freedom to choose is far better than having no choice. Request your free no-obligation call backnow and discover how they can help you today.
Whatever the shape – Victorian, Edwardian, Double Hipped, Lean-to, T-Shape or P-Shap. They have your needs covered with their unique nine-layer roof structure which not only meets building control regulations, it exceeds them.
PEACE OF MIND comes free and with every replacement roof they supply a 'No Quibble 10 year Insurance Backed Guarantee'. 'Installation?'well that takes just a couple of days typically from start to finish. It does not require planning permission if the total roof area is less than 30 sq. mtrs.
They have a wide range of insulated roof types, structural roofs and finishes available. Make best use of your conservatory investment, enhanece your home and protect your investment.
Request your free, no-obligation call back from the experts at Ideal Roofs today – THEY'VE GOT IT COVERED!