Natural, bespoke perfumes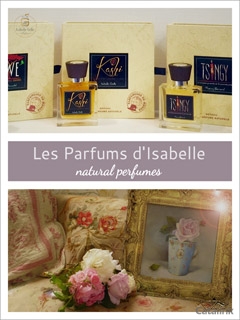 Les Parfums d'Isabelle shares a passion for natural perfumes. All 100% natural scents that'll inspire you, there is nothing more beautiful than a perfume from them. Sign up to their newsletter today to discover their luxurious selection.
All made with 100% natural oils, no animal cruelty and no parabens. You're sure to find a scent that is unique for you or your loved one!
From woody scents and green tea perfumes to citrus delights and much more. The perfumes from Les Parfums d'Isabelle are ideal for both men and women. Treat yourself or your loved one to the perfect gift this year.
Introducing Time is Essence, the new perfume collection from Les Parfums d'Isabelle. With seven fragrances that'll whisk you back in time to the 19th century romantic era. Bask in the soft essence of rose, violet, lily of the valley and green apple and let your senses open. Sign up to their newsletter today to discover more beautiful scents.
Getting married?
Make your day memorable and treat your guests to a personalised perfume from the Time is Essence collection. With this special offer, you will receive:
•Your selected fragrance personalised to your name and wedding date
•A 2ml sample in an organza bag for each of your guest
Travelling across the world to discover that truly unique scent, Les Parfums d'Isabelle bring you a special message within each bottle. With inspiration sources from aristocratic France, the Indian Ocean paradise islands and far away lands, you are assured that your perfume will truly be spectacular.
Subscribe today to receive special offers, discount coupons and free delivery on samples.