Carpets, wooden flooring, beds & more!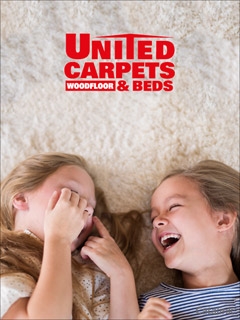 United Carpets bring you an incredible range of flooring for your home. If you're looking for a new carpet at a great price, this is the place for you. Sign up to their newsletter today to explore all they have to offer.
If it's a new plush carpet you're looking for, the experts at United Carpets have what you need. From deep pile cuts, kids carpets and wool carpet to patterned carpets, twist pile carpets and so much more. There is a style to suit everyone with them!
Like to be a little bit different or decorating the kitchen or bathroom? Their selection of vinyl flooring is extensive and beautiful. With designs to suit every home and every style. With affordable laminate, you can floor your entire home for a great price. Choose from a great range of colours and finishes.
Explore their range of high quality beds and treat yourself to a soft new divan, a silentnight bed or get a brand new luxury bed frame. Whatever you desire, you can find it with United Carpets.
With such a huge range of flooring, underlay, artificial grass and beds, you'll be able to find something perfect for you with United Carpets.
Sign up to the United Carpets newsletter today to receive member only discounts and updates on high quality flooring and carpets!