Beautiful upholstery & fabrics for your home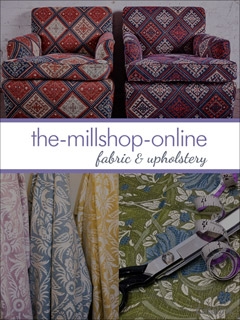 Looking for the perfect fabric? The Millshop Online brings you a huge selection of fabric at affordable prices. Sign up to their newsletter today and bring some colour and style to your home.
With curtain fabrics, upholstery fabric and designer fabrics that are completely unique to The Millshop you can find something perfectly original with them. Wrap your sofa in that new fabric or pick some beautiful new cushions, the options are endless.
From velvet curtain fabric, plain linen and wool to silk upholstery, damask fabric and much more. All of the fabric and upholstery supplied by The Millshop Online are of the best quality.
Whatever your personality, they have something made just for you. Choose from brave and bold patterns, muted pastel colours or pretty floral's – whatever you love, The Millshop has it. Sign up to their newsletter today to see what they can offer you.
The experts at The Millshop Online are availble to assist you with any need. They can help you choose the perfect fabric or talk you through their made to measure section. Get exactly what you want with them.
Sign up to The Millshop Online newsletter today to give your home that much need revamp. Get exclusive offers, updates and discounts from the fabric experts.