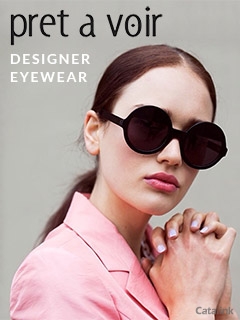 Pretavoir bring you a range of designer eyewear & stylish watches perfect for every individual. From quirky glasses and bold shades to stylish watches, they have it all. Sign up to their newsletter today to discover their range and find your perfect pair.
With famous sunglasses brands from Chanel, Dior, Oakley and Adidas to Calvin Klein, Burberry and Ray Ban, Pretavoir have glasses and sunglasses of every style and shape.
In addition to the large selection of eyewear, you can also find a large selection of gorgeous and stylish brands of watches, when you sign up to their newsletter today. In other words, It's a win-win situation.
The perfect gift for your partner, or maybe just a treat for yourself. Pretavoir bring you everything from Barbour watches, Ingersoll Leather Strap watches to matching his and her Guess watches!
Get summer ready today and find your perfect pair of prescription sunglasses – made just for you.
Pretavoir is supplied by all the major brands carried. We have accounts with Luxottica, Safilo, Marchon, Marcolin and each official distributor.
We do not purchase products from third parties. In other words, we have complete security in the authenticity of our supply chain.
Sign up to the Pretavoir newsletter today to discover their range of designer eyewear & stylish watches