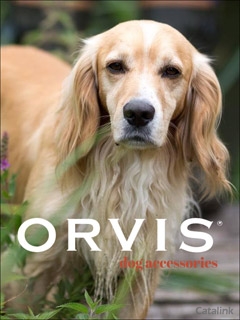 High Quality Dog beds and accessories available from Orvis. 100% Satisfaction Guaranteed. Request Printed Catalogue Now
The best solutions for your dog. The best value for you.
What we love
We love our dogs with the same passion as you do. That's why you'll find dog products of the highest quality here: dog toys and treats, dog beds and bowls, collars and crates—all lovingly designed for your dog.
We've included products for active, young dogs, but also products for older dogs who require a little more support.
If he has trouble bounding effortlessly into the back of the car as he once did or onto his human's bed, find a dog ramp or steps to help him up. And our memory foam dog beds cradle him in comfort, whatever his age.
What you will get
You'll also find road-ready dog travel products to make travelling with your dog easy. We have products like crates, bolstered back seat protectors and hammocks, traveller's kits with collapsible bowls, and much more.
(Are we there yet? He won't care; he just enjoys the journey.) And after you return home, tired and happy, maybe a little muddy, let us outfit you with products to help keep your hardwoods, carpets, and furniture clean: attractive metal and wood dog gates, and furniture covers and throws for dogs to protect what lies beneath while he naps on top.
Is there any better expression of unconditional love than the one on your dog's face? It's written all over him. He is smitten with everything about you: the sound of your voice, your smell, the smile on your face—he even knows it's you before your car reaches the drive.
If you have the great fortune of belonging to a dog (and make no mistake: he has his own ideas about possession), you understand the tail-wagging rapture that greets you every day, and you know there would be a great void in your life without it.
He has worked hard to train you; at times you've been a tough nut to crack, and he's had his doubts. One thing is certain, though: he has taught you what it means to be loyal (even if you still need some work).
Bark less, wag more, as the saying goes. Come inside and find fantastic dog products and resources for the dog or the dog lover in your life.
It's pretty simple. You want the best for your dog. So do we. At Orvis, we go to great lengths to offer innovative items that improve your daily life with your dog. And we guarantee that our products are not only of the highest quality, but also provide the best value for money. Request Printed Catalogue Now