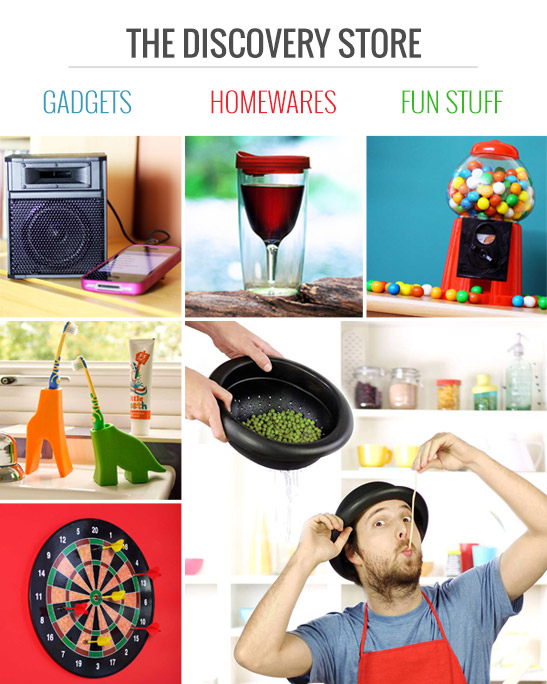 The Discovery Store is the place to discover all the things you never knew you needed!
A brilliant mix of products with an creative and quirky twist to make your life easier and much, much more fun!
Request your Discovery Store Catalogue and go on a grand adventure: just grab your bike from CLUG, the smallest bike rack ever, pack your Waterproof Notepad and Pencil, and grab a brew in your Beer2Go Portable Beer glass! If you need to make sure you won't be late for your adventure, you can find an alarm clock sure to get you up and if you'd rather sleep in, the discovery store is the perfect place to find everything to make your bedroom incredibly comfy. Order your Discovery Store catalogue today and banish boredom for good!
The Discovery Store catalogue is also the perfect place to find gifts for even the pickiest friends and family members and for every occasion! The catalogue is full of gadgets and gizmos anyone would be surprised and happy to receive: from the geek, bike expert, homebody, student, foodie, big kids, small kids, you'll find something for everyone with your Discovery Store catalogue!
Why not take a trip down memory lane and rediscover the best things from your past?! Where else can you still find a Virtual Pet, Lucky 8 Decision Ball, or Glow in the Dark Stars for your bedroom ceiling? If you're missing the age of vinyl, you can find coasters and even bowls all made out of old records!
You truly can find just about anything you can imagine at The Discovery Store. Start discovering today, request a catalogue and find out what you've been missing!
Request Now:
www.catalink.com/the-discovery-store-gifts-gadgets-more-catalogue/p/004685