Designer Baths, Bath Panels and Bath Accessories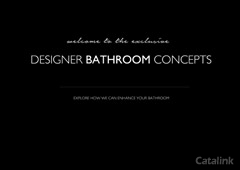 Designer Bathroom Concepts provide high-quality bathroom solutions in a range of modern and contemporary designs! Request your free design catalogue for bathroom inspiration today.
Discover the amazing range of bath options to help you unwind after a long days work. You'll be spoilt for choice deciding between options. With air spa baths for the ultimate relaxation bath or a modern freestanding bath for a bathroom centrepiece!
Shop for all baths, bath panels and bath accessories and get 5% off orders over £200!
The Designer Bathroom Concepts collection offers baths with unique features in a range of designs and colours. You'll be sure to find the perfect product for your home!
Explore the designer bath shower screens for innovative bathroom solutions for all bath and shower sizes.
Use the free bathroom design journey with the Designer Bathroom experts, using your vision coupled with their experience to create your dream plan.
Request the Designer Bathroom Concepts Catalogue today for all your Bathroom needs and inspiration!