Live-in care & companionship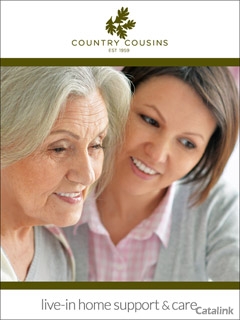 For over 58 years Country Cousins Care have specialised in live-in care. They bring you the best care where you are most comfortable.
What is live-in care?
A live-in carer can stay with you or your loved one in your own home. This allows you or your family member to remain in familiar and relaxed surroundings when extra support is needed. Request a free no obligation phone consultation today to find out more.
Why Country Cousins live-in care?
Established in 1959, Country Cousins is the longest running introductory live-in care agency in the UK. They know that your home is your cornerstone, full of happy, warm memories.
That's why live-in care through Country Cousins is a great choice when either you or your loved ones need some extra assistance with the challenges that come from living at home.
A Country Cousin can provide companionship, comfort and compassion. They can provide practical assistance with personal care and household tasks in the comfort of your own home. They can accompany Clients to family weddings or take them away for a break.
Get in touch today and request your free, personal no obligation phone consultation and discover what Country Cousins Care can do for you or your loved one.