Your trusted bird food specialist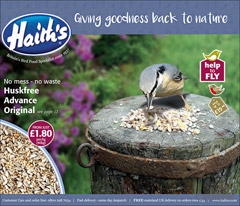 Haith's let you feed more birds for less.
If you love your garden, love nature and enjoy making your garden into a sanctuary for wildlife, Haith's is the place for you. With a quality collection of bird food and accessories, you'll find exactly what you're looking for with them. Order your free catalogue today and start building that bird haven!
Their commitment to quality, variety and value guarantees you'll get as much out of their products as your birds do.
Whether wild or domestic, a blackbird or a blue tit, this is the home of bird food excellence. Haith's premium sourcing, cleaning, packaging and cleanliness delivers first–rate bird food that'll have you feeding the flock of birds you've always wanted.
– Huskfree mixes
– Soft–foods
– Live bird food
– Domestic and wild feed
– Hanging, ground, window and table feeders
– Bird houses, baths, care, accessories and more
From seed feeders, ground tables, husk-free food and live food to bug barns, hedgehog food, bird baths and so much more. Order your catalogue today to discover what wildlife Haith's can bring to your garden.
Whatever birds and other wildlife you look after or want to attract to your garden, Haith's will give you the best ways to do it at the most reasonable prices.
Order your catalogue now to give the wildlife the same joy they give to you.