Inflatable moving & handling equipment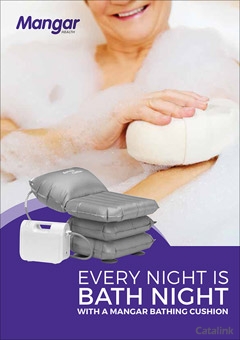 After a long, hard day there's nothing quite like sitting back and relaxing into a warm bath.
With the Mangar Bathing Cushion you can continue to enjoy those moments. Their cushion allows you to get in and out of your bath with confidence, dignity, independence and safety. Order your free catalogue now!
The design of this inflatable and portable cushion means you can lower yourself with ease into your bath with a touch of a button. To fully immerse into the warm water, simply deflate the cushion from underneath you and sit back and relax. You can also leave some air in the backrest for extra comfort.
The Bathing Cushion adapts to baths of all shapes and sizes. Plus, as the cushion is lightweight and portable, you can take it with you wherever you'd like! Whether you're at home, staying with friends or family or away on holiday.
As the air pump (Airflo 12) is battery powered this means you don't have to worry about dangerous power cables. The hand control is also fully waterproof and the cushion can lift up to 150kg (24 stone). You can be assured of a safe and relaxing bathing with the Mangar Bathing Cushion.
Order your free Mangar Health catalogue today and find your independence again!