Luxury Train Journeys in the Balkans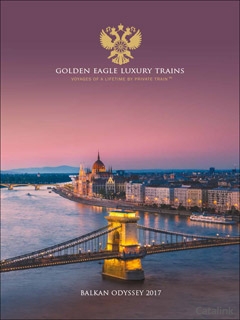 Golden Eagle Luxury Trains invite you to experience a journey by private train through Transylvania and the Balkans. Request the brochure today for full details.
The Balkan Odyssey tour is an 11 day discovery of Europe's landmarks. You'll get a fascinating insight into the future of modern Europe too!
Visit Budapest to see attractions like the Royal Palace and the Opera House. Head to the Great Market Hall and indulge on an delicious foods and wines.
Explore Italy and get pampered at the 5-star Danieli Hotel boasting a spectacular location in Trieste. The journey continues into Venice for a walking tour of the city of romance. Get a unique view of this incredible setting with a gondola ride along the great canal.
Request the Golden Eagle Luxury Trains – Balkan Odyssey Brochure today for inspiring adventures!